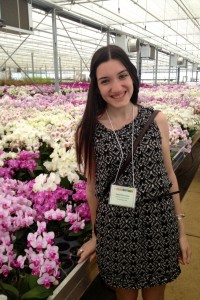 Jackie surrounded by 70,000 Orchid plants
On Monday, June 18th us at Central Square Florist had the honor of visiting one of our Orchid growers in South Jersey.  The Matsui Nursery in the Township of Mantua in Jersey houses a top of the line greenhouse where they grow 70,000 orchids, which are then sold to florists like us. The greenhouse is kept at a comfortable seventy degrees Fahrenheit year-round for successful orchid breeding.
The nursery uses "an active breeding program to produce and introduce new varieties of orchids for changing markets in the future".  The variety of orchids that Matsui grows is endless. Here at Central Square Florist we mostly carry the beautiful Phalaenopsis, or the Moth Orchid. The Moth Orchid comes in pinks, yellows, whites, oranges, or a multi-color mix.
Central Square Florist always has orchid plants available in-store and online for delivery. Orchids plants make great gifts for offices, homes, get-well, thank you, and just because.